I knew I would almost certainly be leaving with a new best friend when I went to visit my friend Samantha, the Cat Behavior Lead, at Best Friend Animal Society in Mission Hills that day. I had a whole bunch of supplies to donate to the shelter after losing my first cat to kidney disease and small cell lymphoma of the intestine about two months earlier. I'd already spoken to my boyfriend and gained his agreement if I found a cat I fell in love with. I'd also spoken to Samantha about the best match for our current cat, Tonks, who was about a year and a half old, quite active, a bit dominant and playful. Based on these facts, and despite the fact that I generally try to adopt adult cats from shelter environments when possible, Samantha encouraged me to adopt a younger cat or kitten to compliment Tonk's personality.
When I got to BFAS, Samantha took me on a tour of each of the areas and I met dozens of cats. I didn't feel a connection with any of them until I made eye contact with one in the very last room. His name was Jamie and he was different from the other kittens because he wasn't at the front of his enclosure meowing for attention like the rest of them. What caught my attention is that he made eye contact and tilted his head in a very curious manner. He was clearly interested in learning more about me, but something was keeping him from doing so.  
I asked Samantha about him. She told me that she loved Jamie, but that he had been there for about 2 months! I couldn't believe it! He was a little, fluffy 5 month old kitten who had been at the shelter for so long! Apparently, he was shy and didn't come to the front of the cage like the other cats but she explained to me that once you took him out of the cage, he immediately started purring. That was pretty much it. I knew I wanted to take him home.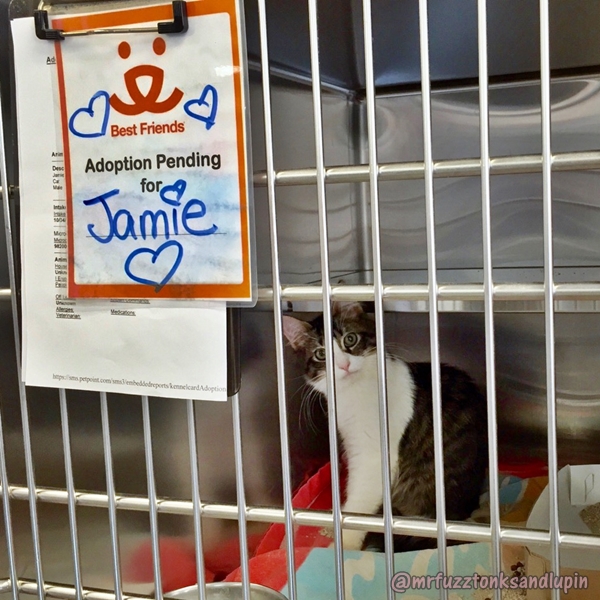 We introduced Tonks and the newly renamed Lupin to each other very slowly. Lupin was VERY shy at home for the first couple of months, even with my boyfriend and I. He would run and hide behind something when we got home until he got used to us and even now he isn't too comfortable with visitors. The thing that struck me as amazing was every time I would go to pull him from the corner or hiding spot her had run to, rather than hissing at me, he would immediately start to purr the moment I touched him. Being a shy guy isn't the worst thing in the world. Some of our guests get offended at the fact that our cat doesn't "like" them. I just tell them that he isn't like Tonks, he needs to know that they're worth trusting.   
As for Lupin and Tonks, well they are just two peas in a pod! I don't think we could have picked a better match for her. Her personality has blossomed in his presence and she has mellowed out and grown maternal and more loving. She takes care of him and they groom each other but they also play and even play fight.
Shy cats usually have a stigma of being unfriendly, at least in my experience. People want to know why your cat is "mean" or why is it so anti-social. Most cat lovers know that cats will do their own thing and to try to force them to do anything other than that is to tempt fate and possible bodily harm (being scratched). So that being the case why should anyone want to adopt a shy cat? I think everyone should have a chance and just because a cat is shy, doesn't mean they don't want affection or attention, they just need some time to adjust to their environment and maybe initiate that contact on their own.   
So that being said, maybe the extra work of trying to socialize a cat who is already shy isn't for everyone but at the same time, don't some people adopt cats because of the very fact that they sometimes aren't emotionally needy and don't always make themselves known? My point is, there is a cat for everyone, no matter what sort of connection you're looking to make, but try taking a chance on a shy cat, you may find that you can develop an amazingly strong connection that you won't find with an "everyman's" cat. – Lupin's Mom
In case you missed part one of this adorable family, here is Tonks's Adoption Story.
Comments
comments